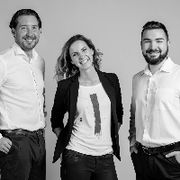 Ansprechperson
Mag. Bettina Plach-Maldonado
Adresse
Weidenweg 26
AT 9020 Klagenfurt
Surfin Birds - Photography and Film Hochzeitsfotograf aus Klagenfurt in Kärnten
At Surfin Birds we believe in providing you with a team of trustworthy and passionate photographers and videographers, who excel in their creative fields, who have a relentless pursuit of delivering an unmatched customer service experience and who have a deep drive to build value, create emotions and to inspire you through powerful images.
Surfin Birds provides wedding services on two major continents. During the summer months our teams are based in Vienna, Austria and Klagenfurt, Austria, photographing and filming weddings all over the country. During the fall and early winter months one of our teams is based in the United States, where they continue wedding photography & film in the beautiful cities of Denver, Colorado and Phoenix, Arizona.
At Surfin Birds we choose to work in teams rather than individual photographers, because we believe it provides you and your wedding guests with a better customer service experience and it gives us the ability to be at multiple locations throughout a wedding ensuring that nothing will be missed on your wedding day. Since our experienced teams have worked all over Europe and the United States, they bring an array of inspirational ideas, techniques and guidance for you and your wedding.
Surfin Birds covers your wedding story from start to finish through a reportage of photos (and video) that show all the precious moments and emotions of your wedding in a colourful and lively style, while working in a very natural way that we know will leave you heartfelt, impressed and smiling for years to come every time you look at your wedding photos.
Have a DESTINATION WEDDING or are from another country? Love our work and don't want to book a local photographer? Don't worry, our passports are up to date, we don't have any travel restrictions, we don't need to fly first-class and we enjoy all types of weather conditions and landscapes. So if you are having a destination wedding or you live apart from where we are located and you love our work, drop us an email and we'd love to discuss your wedding day with you.
Like our photography we love to tell your wedding story from start to finish through film. Our wedding videos show all the cherished moments, emotions and colours of your wedding day in a short highlight film with an authentic and natural approach.
In combination with great sound and music we create beautiful wedding films that will make you feel like you are reliving your wedding day every time you watch it.
Mehr Information & Leistungen
Person
weiblich
männlich
mehrere Fotografen
Art
Engagementshooting
Elopement
Ganztagesreportagen
Standesamt Begleitung
Stundenweise
After-wedding-Shooting
Trash-the-Dress
Videograf
Bridal Boudoir
Preis
Extras
Häufig gestellte Fragen zu Surfin Birds - Photography and Film
Beschreibt euren/deinen Stil!
Farbenfroh und ungezwungen, je mehr gelacht wird, desto besser!
Wie viele Fotos bekomme ich?
Bei einer 10h Reportage bekommt ihr ca. 800 digital optimierte Fotos in Druck- und Webauflösung als .jpegs!
Kommst du alleine oder seid ihr mehrere?
In der Hauptsaison kommen wir immer zu zweit im Team.
Kann man euch auch im Ausland buchen?
Ja.
Filmt ihr auch?
Ja! Ryan ist der Videoenthusiast in unserem Team und zaubert euch aus eurem großen Tag einen wunderschöne, natürlichen Kurzfilm zwischen 3-5min.
Wann sollte man spätestens bei euch anfragen?
Je früher desto besser.
Das sagen Brautpaare über Surfin Birds - Photography and Film